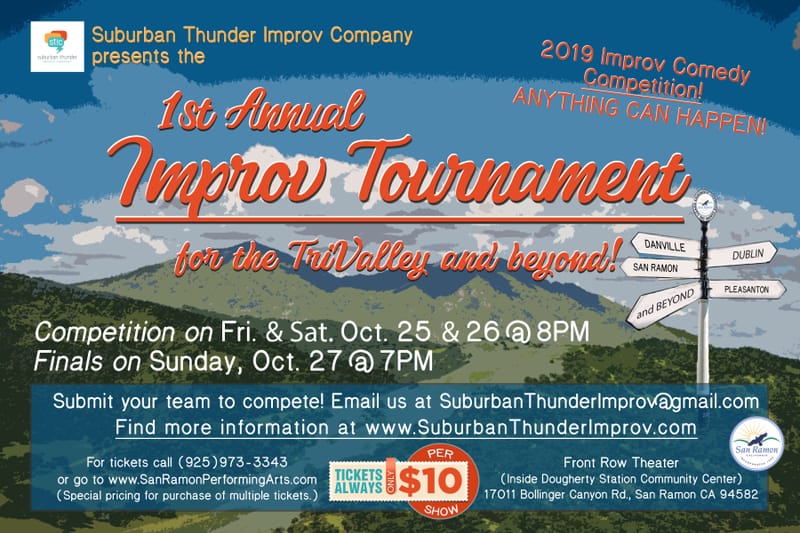 Join Suburban Thunder Improv Company for this Head to Head Competition Tournament between improv teams of the TriValley! Come cheer on your favorite team and help them get to the finals!
Featuring local TriValley (and beyond!) improv teams doing what they do best! Each team performs a 25 minute set to win your votes. You get to decide who goes to the finals. Support your favorite team on their journey to victory!
Joining the fun on
Friday, October 25
is
5 Play!
5 Play is the popular East Bay long-form improv group that has been captivating audiences around the Bay Area since 2009. Their cast explores the fun, exciting, and silly nature of human relationships in an unforgettable show of completely improvised scenes and stories. 5 Play's show format consists of a fully improvised story inspired by an audience suggested title. Since 2010, they have performed regularly as the core group at Made Up Theatre in Fremont. The cast members have improvised together since 2005, and their chemistry as a group creates a unique and high-energy improv show.
Also performing on Friday, October 25 is
Suburban Thunder Improv Teens
and
Encore Improv Troupe
.
These two teams bring a new perspective on improv to our stage.
Competing against
ST!C
on
Saturday, October 26th
is
Ready Players One!
Ready Players One formed in the robot car-infested city of Palo Alto out of the BATS (Bay Area Theater Sports) performance class series. They've been playing together as classmates for two years, and have recently started putting on their own shows in Palo Alto and San Francisco. When not performing or practicing in living-rooms, they like eavesdropping on venture capitalists at Philz and Starbucks, and making bets as to which parts of the city Google will buy next.
Rounding out the performances on Saturday is Improv Anonymous. This is the house team at Plethos Productions in Castro Valley.
STAYED TUNED TO FIND OUT WHO ELSE WILL BATTLE IT OUT FOR THE BRAGGING RIGHTS!
3 TEAMS WILL COMPETE EACH NIGHT (Friday and Saturday) WITH THEIR OWN 20-25 MINUTE SET.
VOTES CAST BY THE AUDIENCE WILL CHOOSE THE WINNER OF EACH NIGHT. (Your team must be available to play on Sunday, 10/27.)
WINNERS OF FRIDAY AND SATURDAY SHOWS COMPETE ON SUNDAY FOR ALL OF THE MARBLES! (or a small cash prize!)
---
SEE YOU AT THE SHOW!