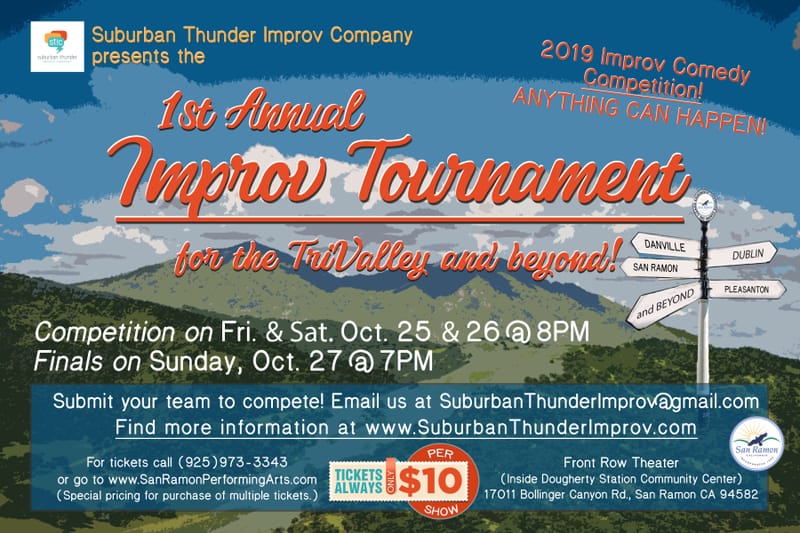 Join Suburban Thunder Improv Company for this Head to Head Competition Tournament between improv teams of the TriValley! Come cheer on your favorite team and help them get to the finals!
Featuring local TriValley improv teams doing what they do best! Each team performs a 25 minute set to win your votes. You get to decide who goes to the finals. Support your favorite team on their journey to victory!
Submit Your Team!
Check back soon to find out which teams will compete!
---
Submit your team to play and compete!
Send an email to SuburbanThunderImprov@gmail.com.
INFORMATION FOR SUBMISSION
SEND US AN EMAIL WITH YOUR PREFERRED DATE TO PLAY (Friday or Saturday).
PLEASE INCLUDE:

Your team name and members with 2 line bios
Your team's logo or photo
The format for your 20-25 minute set (eg: short form games, musical, longform, etc.)
Needs for the stage (chairs, tables, etc)
If possible, also send a short (less than 15 minutes) unedited video of your team performing on stage.

3 TEAMS WILL COMPETE EACH NIGHT (Friday and Saturday) WITH THEIR OWN 20-25 MINUTE SET.
VOTES CAST BY THE AUDIENCE WILL CHOOSE THE WINNER OF EACH NIGHT. (Your team must be available to play on Sunday, 10/27.)
WINNERS OF FRIDAY AND SATURDAY SHOWS COMPETE ON SUNDAY FOR ALL OF THE MARBLES! (or a small cash prize!)
---
SEE YOU AT THE SHOW!